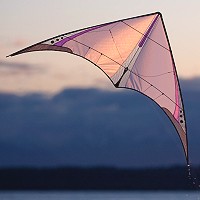 Size: 58 x 26 in.
Material: Rip-Stop polyester & Carbon Fiber frame
Skill Level: Beginner - Expert
Flying Line: INCLUDED



A featherweight trick kite from Prism, the 4D is perfect for impromptu flights in unlikely areas. Light weight and medium size wingspan make the 4D a handy kite for travel too, packing into its' 23" padded case. If you want to try indoor flying, the 4D is a great kite. A Rip-Stop Polyester Sail and solid MicroCarbon frame make a tough light package.


click on images to enlarge