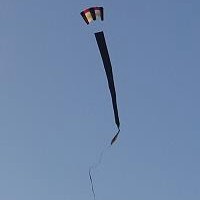 Size: 25ft. x 14in. & 75ft. x 28in.
Material: Nylon.
Skill Level: Novice - Expert

These Banner Tails can be added to the flying line for an impressive sky show and are also excellent stabilizers. Used with the Large Power Sled 24 or the Jumbo Power Sled 36 in place of the drogue, the 75ft Banner Tail makes these kites very useful strong wind flyers. Banner Tails add stability and create a flowing serpent effect. Available in Red, White, Black & Blue.