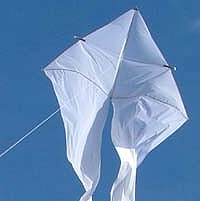 Size: 360" x 132"
Material: Rip-Stop Nylon, Taffeta & Glass Fiber
Skill Level: Beginner - Expert
Flying Line: not included



Ghost Deltas are easy to fly and have a stately sky presence. They fly in a wide range of winds and can lift modest line laundry. These flowing wonders float on the lightest breezes. At night, add lights for a truely ghostly experience. 11ft wingspan with 30ft Tails. Includes fabric storage bag.