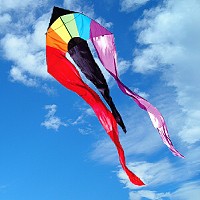 New color Morocco,
warm and dynamic.


Size: 156" x 44ft. long tails
Material: Rip-Stop, Nylon with Glass/Carbon Frame
Skill Level: Beginner - Expert
Flying Line: 250lbs suggested
The 13ft wingspan Giant Tri-Tail Delta creates a mesmerizing effect with its long flowing 33 foot tails. An easy kite to assemble and get aloft. The wonderfully unusual tails not only give visual impact in the sky, they make this large strong pulling kite a very stable flyer.


click on image for larger view