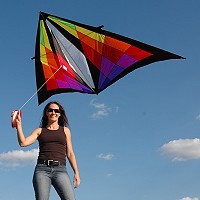 Size: 102" x 53"
Material: Rip-Stop Nylon with Fiber Glass Frame
Skill Level: Beginner - Expert
Flying Line: not included. 90lbs suggested.
These 9ft wingspan Deltas are beautifully crafted and fly very well. The intricate graphic designs are all applique work and attention to detail is high. Good for low to medium winds, these kites will support modest "line laundry" with no problem. Very stable flyers with or without a tail.


click on images for larger view