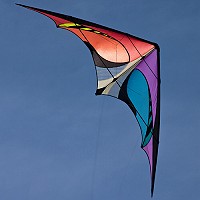 Size: 38 x 91 in.
Material: Rip-Stop Nylon
Skill Level: Intermediate - Expert
Flying Line: INCLUDED
The E3 is a state-of-the-art complete package designed to get you to the next level and beyond. From the slick Carry-Case to the "Flight School" Instructional DVD, this kite radiates quality. Hand-wrapped Carbon Fiber frame and Rip-Stop sail. Also included, competition grade Spectra Flying Lines.


click on image for larger view