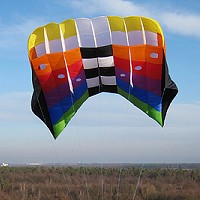 All sizes available in Rainbow on bottom surface.


Size: 2.0 57"x79" 4.0 81"x111" 7.0 108"x146" 10.0 134"x167"
Material: Rip-Stop Polyester
Skill Level: Experienced - Expert
Flying Line: not included. 200lbs plus needed.

The completely "soft" Flow Form 2 is a great "lifter". All sizes are easy to fly, though the 4.0 and 10.0 generate a lot of pull. 2.0 is best for "KAP". Flow Forms are stable and reliable so they are often used as lifters for line laundry and large socks and tubes. Add tube tails for even more visual appeal. The sturdy carry-bag doubles as a sand anchor. Large Flow Forms should be flown by those experienced with strong pulling kites.