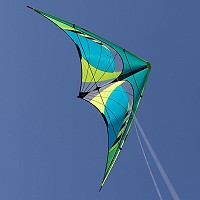 Seafoam Special Edition above.
Limited Issue Color Combination


Size: 40 x 87 in.
Material: Rip-Stop Nylon
Skill Level: Beginner - Expert
Flying Line: INCLUDED
Everything you need to get hooked is included with the Quantum, from pure Spectra lines, flight straps and winder, to easy instructions printed right on the inside of the bag. Figure out the basics, then switch to the radical bridle setting so you can really spank it around in the sky. Carbon Fiber frame, with spine "shock absorber". Packs into 3ft carry-case.


click on image for larger view


Fire
Yellow/Red/Orange


Ice
Aqua/Blues


Citrus
Yellow/Lime/Green