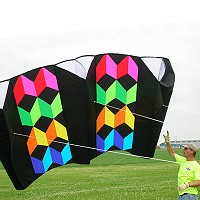 Simple bridle with no frame to assemble. The drogue tail, which the kite packs into for transport, makes this kite a good stable lifter.


Size: 178 x 83 in.
Material: Rip-Stop Nylon
Skill Level: Experienced - Expert
Flying Line: not included min. 500lbs, 1,000lbs recommended.



With no spars to break, Power Sleds make good "lifters". These large kites are easy to fly and pack down into their drogue chute carry-bag. They will support all sorts of line laundry and the drogue ensures good stability. The Mega Sled is a large kite high pulling kite and is therefore recommended for those with experience flying strong pulling kites.


click on images for larger view